Differents tariffs
We have differents tariffs as there are different periods via Gîtes de France
As the Little Lodge and the Big Lodge Lodge are affiliated to Gîtes de France, you have the possibility to rent the cottages on the midweek formula (from monday 14PM to friday 12AM at the same price of a weekend (of the same season).
25% of the total amount confirm your booking, the balance and options can be paid at your arrival.
600 euros deposit for the Big Lodge or 400 euros for the Little Lodge.
Our tarifs included : water and electricity (in the limit of 8 KWH by day).
For a better stay, cleaning at the end of your stay is now requested : 70,00 € (Big Lodge) / 50,00 € (Little Lodge) / 30,00 € (Wooden House).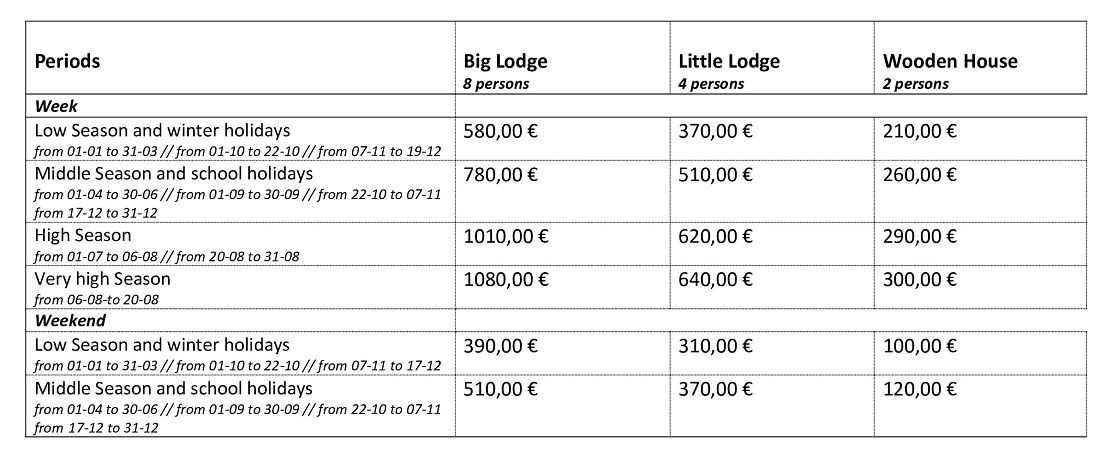 Planning
In order to know our availabilities, you can go to the Gîtes de France website this link.
And then go to the reference task : 720 for the Big Lodge and 729 for the Little Lodge. For the Wooden House, there is no planning online, please call us at + 33 06 12 83 43 83 or send us an email by our contact page.
Options
Sheets : 7 € / person
Towels : 5 € / person
Wood for the Big Lodge : 15 € / stere quarter

---